Here are a few of my favorite things from around the web this week:
The Two Minute T-Shirt Dress from Prudent Baby... There's a slew of upcycled baby clothes tutorials out there, but this caught my eye for being particularly cute and easy.  I used to love wearing my dad's t-shirts around the house when I was a little girl, and I'd be lying if I said there wasn't a part of me hoping our little one wants to help me downsize her dad's t-shirt collection by adopting a few as her own.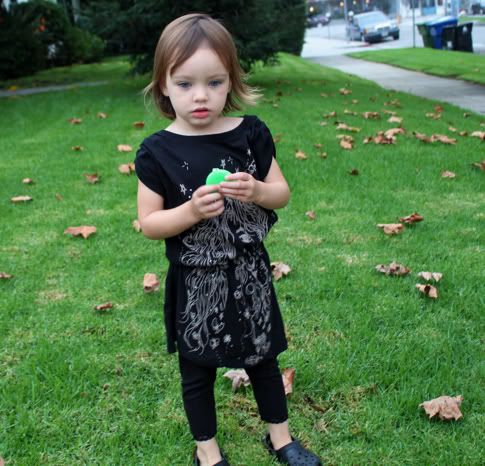 Oh, Fransson!'s Mod Blue Mosaic Quilt... Oh, Fransson! is one of my quilting heroes (and a fellow Portlander!)  Her quilts are always so modern and unexpected - and this one is no exception.  My brain has a hard time with asymmetry, so while I'm not sure I'll ever be able to adopt her style of quilting, I still love to swoon over her creations.
My friend Rachael sent me this DIY Bird Mobile tutorial last night, and I'm pretty much obsessed with it... Sarah was going to help me DIY a mobile similar to the one in the mood board I put together, but this tutorial has me totally inspired.  I'll have more than enough scrap fabric left over from the various nursery projects - plus, hello!, they're birds!  Tiny little perched birds in coordinated fabrics keeping watch over my baby girl.  It's all too much.  I kind of HAVE to do this, right??